Recommended Resources:

Books:

Kelly, L.. Don't Ask for the Dead Man's Golf Clubs: What to Do and Say (and What Not to) When a Friend Loses a Loved One. New York: Workman, 2000.

Viorst, J. Necessary Losses: The Loves, Illusions, Dependencies, and Impossible Expectations That All of Us Have to Give Up in Order to Grow. New York: The Free Press, 1998.

Westberg, G. E. Good Grief: A Constructive Approach to the Problem of Loss. New York: Fortress Press, 1974.

Zunin, L. M., & Zunin, H. S. The Art of Condolence : What to Write, What to Say, What to Do at a Time of Loss. Perennial, 1992.

Videos:
Shadowlands. (1994). Directed by Richard Attenborough; starring Anthony Hopkins, Debra Winger, David Hardwicke.

Truly, Madly, Deeply. (1991). Directed by Anthony Minghella; starring Juliet Stevenson, Alan Rickman.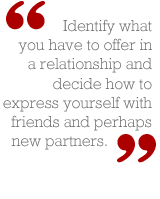 Grief As a Series of Tasks
One problem with stage theories of grief is that they suggest a "right" sequence of events; if you don't go through one of the stages, your recovery will be incomplete. Another problem is that they imply a timetable -- an amount of time during which you should be getting over the loss. In fact, neither assumption is correct. In our account-making theory, we see some processes as overlapping, others being returned to, some not occurring explicitly at all. And there is no such thing as the "right" amount of time to grieve. "Shouldn't my mom be getting over it soon, doc?" the man asks, "Dad's been dead a year now, after all!" A year for some people would be plenty of time to cope with some losses, but for most people, the loss of a long-time spouse is the most stressful of life events and one year is not nearly enough time to heal. Remember our model, too: Healing takes not only time, but work as well, in order to resolve into a changed but whole identity.

For example, intrusions into one's denial mean that eventually reality must be faced: the lost loved one will not be back. Further, though some story-telling is automatic, in the sense that we often review life events and try to explain them, it's hard to be rational, fair and sensible. Eventually you might admit that you too were unfair to your ex, and that both of you made mistakes. And as beneficial as it is to confide in others, it's usually easier said than done. Even with a trusted confidant, you might wonder what he or she will think of what you have confided, and feel awkward about how to interact. These are natural, important, healing undertakings -- but they aren't easy. Thus we refer to the work of grief or "grief work."

Another approach to grief theories sees the stage model as flawed, mainly because of its strong step-by-step sequencing. Two Danish psychotherapists, Nini Leick and Marianne Davidsen-Nielsen, found their own patients' experiences were better understood with a task model rather than a stage model. Through years of client interviews, the therapists identified four important tasks that must be accomplished through grief work, no matter in what order or amount of time they are met:
The reality of the loss must be acknowledged.
The emotions of grief must be expressed.
New skills must be developed.
New relationships must be formed.
These are listed in a sequence, implying an inherent order, but no particular order is essential for Leick & Davidsen-Nielsen's model to work. Years may pass and you'll still be dealing with the reality of loss. Survivors have dreams or visions of long-gone loved ones years after the fact. The pain or disappointment of a breakup bothers you long after you decide you wouldn't really turn back the clock if you had the chance. Some skills are easier to form than others: confiding in others, doing social things on your own, admitting you were wrong, fixing your own car...

Leick and Davidsen-Neilsen's theory is appealing because it is so pragmatic and helpful. If bereavement is not a timeline but rather a course, a set of tasks, then knowing what those are, can help any bereft individual to undertake grief work:
Ask for help facing the reality; plunge yourself into the miserable facts; make a scrapbook of mementos you cannot deny; write individual letters again and again, using the word "gone" or "dead" instead of euphemisms. Facing the loss doesn't mean forgetting the past, though, and you must admit there were irreplaceable, wonderful times, which are painful to have lost.
Express the emotions of loss. This is the complex of grief. What are your particular, unique grieving emotions? List them; circle the predominant ones. How can you express those you have not spoken, written or screamed about? Don't break any laws, don't hurt feelings if it can be avoided -- but be honest with yourself. Cry when you are sad; warn your co-workers there may be waterworks out of nowhere, but you'll be just fine soon! Laugh if you feel good. If others act dismayed, point out that it feels good -- or don't bother, as it's really no one else's business anyway.
Develop new skills. Without that person in your life, what else have you lost? What did you count on him or her to do? What did you fail to learn? Take it up. Learn a foreign language and visit that country. Go back to school. Wear something that isn't "you" -- the you of that relationship. Take control of your life. Go see a movie alone. Take yourself on a date. Let the phone ring, see how many calls that you're dying to answer, you can just let the machine pick up.
Cultivate new relationships. You are a different person now -- sooner or later, like it or not, you can't go on the way you would have. Start with existing relationships or acquaintanceships. Ask people questions you never asked them before. Listen, instead of planning your answer. Or if you're shy, pretend you aren't. (This goes in the "new skills" category above) and then practice being less shy with old and new acquaintances. Identify what you have to offer in a relationship and decide how to express yourself with friends and perhaps new partners. Identify the kind of friend or partner you want to be; this will lead you to identify the kind of persons who can be friend or partner to you.